Examination of a hospitalization - operation of the third description of Crohn disease fight against illness
【It is the third hospitalization (1998) in 1998】
 In the same way as time of the second hospitalization, physical condition turned worse from about February, and I entered not trying it hard to a limit almost the last time early this time, and it was a strategy to shorten hospitalization if possible.
 
 I am similar according to the plan very early, and inflammation is slowed down, too and I entered 復食過程 that I aim at return, but when I examine an operation once, it is please talked and I agree and go to a medical examination to a surgeon of a hospital and will examine an operation.
 

 【An examination result of an operation is ...】
 At the same time, started, concluding it to be inspection data of then by "medical power as of now ,"
  I cannot offer a worthwhile operation to have you feel hurt.
  
  I recommend that it is continued a medical therapy for the time being. "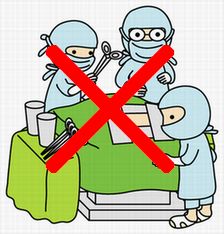 It was said .
 
 Is various in feeling and Hazama-Gumi of the told reason to be relieved at when do not need to be operated on; was made to spend the days when feelings broke out.